1296P Resolution
Utilizing the strong A12 chipset, minimizes power consumption while providing optimal performance, reliably supports 1296P Ultra HD and Loop Recording, Event/Normal Save, HDR, Super Night Vision, Parking Mode and others.
2K 1296P or 1080P Dash Cam

Shots up to 2k 1296P@30fps, 1080P@30fps,1080P@30fps+HDR,and 720P@60fps better for captures fast moving traffic and smoother video in high speed. And the 2K resolution helps you better read street signs, license plate etc day and night.

Loop Recording & G-sensor

Seamless Loop recording record videos on 1 /3 /5 minutes clips and auto overwrites the oldest clips with the newest upon filling a card to capacity. Auto/Manually locks the important video segments to the "Event" folder when it detected the bumped, hit, collision etc.

170° Wide Viewing Angle

Features on 6 full-glass high-resolution lens, industry leading F1.8 aperture, 170° wide angle able to monitors 4 lanes ahead, your own independent witness, protect you from fake accident.

24 Hours Parking Mode

Auto switch to Parking mode when you parked your vehicular. Triggered by motion detection, the dash cam will automatically record when people or things come closer to your car in front. Please hardwire(Asin: B07G9WTWB9) it or connect it with an external battery.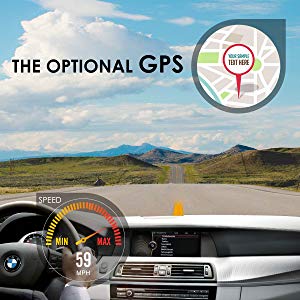 Optional GPS

The GPS helps you accurately assess the status of the accident by providing you with the vehicle speed, the direction of the collision and the severity of impact. The DASH CAM not only records driving footage but can also be used to track and recall past driving routes whether it be work or holiday routes. To use GPS function, please buy an extra GPS mount Asin B07CYW6JXW.
Auto LCD OFF Car Camera
Support auto LCD off timer which enables the lcd off automatically after the recording begins so you won't be disturbed by another glowing rectangle on your windshield, you can also turn this function off if you prefer the LCD stays on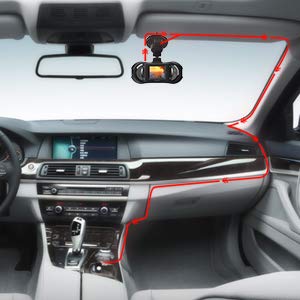 What's in the box?
1x Vantrue R3 Dash cam;
1x Car Charger (About 10 ft);
1x USB Cable (About 3ft);
1x User Manual;
1x Quick Guide;
1x Share Card
Kind reminder
No memory card, support up to 256GB (Class 10), but Samsung Evo 64GB (class 10) card is recommended.
The built-in 250mAh battery is just to keep setting, please always keep the dash cam plugged in, or it will keep telling you to connect the power.
Please charge for 2 hours at the first time to prolong the battery life.